Martin Skoglund
Senior Associate
Biography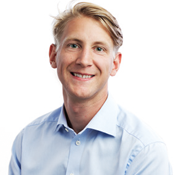 Martin has been an investment professional at Patricia Industries Nordic since 2015. He joined Investor AB directly after graduating in 2012, and has since then worked with a broad set of companies and industries, albeit with emphasis on technology, telecom and medtech. Martin has also been part of the team responsible for the European portfolio of financial investments held by Patricia Industries. 
Martin holds an M.Sc. in Accounting and Financial Management from the Stockholm School of Economics, partly completed at National University of Singapore and partly at Cornell University, New York. During his studies, Martin also worked at Carnegie Investment Bank, PwC, Nordea Markets, and Kantar Millward Brown.
Martin is currently on a one-year secondment to Mölnlycke, working within corporate strategy and business development.
E-mail: martin.skoglund[at]molnlycke.com