Thomas Kidane
Managing Director
Biography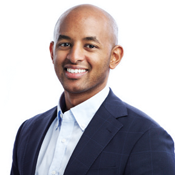 Thomas has been at Patricia Industries Nordics since its inception in 2015. He joined Investor AB as an Investment Professional in 2008 working with a broad set of industries and companies, both within the existing portfolio and in search of new investments. Thomas has been part of many large transactions, including Permobil and Wärtsilä, as well as several add-on acquisitions such as ROHO, TiLite, Max Mobility and Comfort Company.  
Thomas serves on the boards of Vectura and Permobil, where he also is the Chairman on the Finance and Audit Committee.
Thomas is responsible for Patricia Industries Nordics' recruitment activities. 
Thomas holds an M.Sc. in Accounting and Financial Management from the Stockholm School of Economics, Sweden. Parallel to studies, Thomas worked as a trader at E*Trade Financial.  
E-mail: thomas.kidane[at]investorab.com