Biography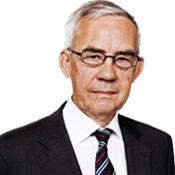 Sune has served on the board of Patricia Industries since the start in May 2015. He is also a director of Wärtsilä. Prior board assignments are Atlas Copco (Chairman), Scania (Vice Chairman and Investor AB (Vice Chairman).
Sune has been President and CEO at SKF and Executive Vice President at ABB/ASEA.
Sune holds a M.Sc. in Engineering from Chalmers University of Technology, Gothenburg, Sweden.