Laura Andrews
Senior Finance Director
Biography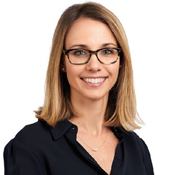 Laura has been Senior Finance Director at Patricia Industries in North America since 2015 and is responsible for financial reporting of Investor AB's legacy venture capital investment effort as well as holding wider group reporting and financial control responsibilities.
Laura joined Investor Growth Capital in 2011 and became Senior Finance Director in 2013. She began her career as an auditor at Ernst & Young, with the London Asset Management team before moving to the New York Performance Improvement Advisory Services team, specializing in alternative asset management.
Laura received a B.A. in Philosophy, Politics and Economics from Oxford University and is a member of the International Chartered Accountants of Scotland.
E-mail: laura.andrews[at]investorab.com