Christian Cederholm
Head of Patricia Industries
Biography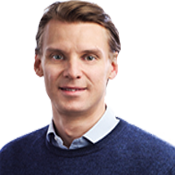 Christian is Head of Patricia Industries since February 2021, and was previously Co-head of Patricia Industries during 2017 and 2021. Christian is based in Sweden. In 2001, Christian joined Investor AB as an investment professional working with a broad set of companies and industries. Over the years, increased focus on investment and development of the privately held companies. Christian also led the acquisition of Permobil in 2013.
Christian serves on the board of Hi3G Scandinavia, Mölnlycke Health Care and SignUp Software.
Christian received a M.Sc. in Finance from the Stockholm School of Economics, Sweden.
E-mail: christian.cederholm[at]investorab.com