Louis De Geer
General Counsel
Biography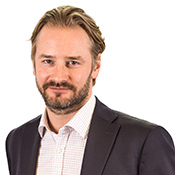 Louis has worked with Patricia Industries since its inception in 2015. He joined Investor AB as Legal Counsel in 2009 and has since worked broadly with legal issues concerning the Investor AB Group. Louis has been part of all acquisition of wholly-owned subsidiaries within the Investor Group since 2009.
Louis' role with Patricia Industries is to work with its subsidiaries with focus on shareholder matters, M&A, Incentive programs (MPP) and the subsidiaries' external financing. Other legal areas include Patricia Industries regulatory/compliance, corporate governance and legal structure. In parallel, Louis also has a role as legal counsel for Investor AB and in such capacity, mainly works with EQT and Treasury.  
Louis holds a Master of Law and a B.Sc. in political science from Stockholm University, Sweden.
E-mail: louis.degeer[at]investorab.com