Biography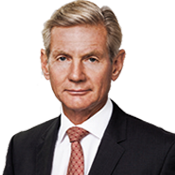 Gunnar has served on the board of Patricia Industries since the start in May 2015. He is Chairman of Mölnlycke AB, Stena AB and Neptunia Invest AB. Gunnar is also a director of Investor AB and ABB as well as a board member of The Association of the Stockholm School of Economics and The Royal Swedish Academy of Engineering Sciences (IVA).
Prior board assignments are: Rolling Optics, SOS Childrens Villages Sweden, Stockholm School of Economics, StoraEnso, Syngenta AG and Total SA.
Prior work experience include CEO of Atlas Copco AB, Thule International, Tetra Pak Group of Companies and Alfa Laval.
Gunnar holds a M.Sc. In Economics and Business Administration, Stockholm School of Economics, Sweden.