3 Scandinavia
3 Scandinavia is a leading provider of voice and broadband services in Sweden and Denmark. Since its inception in 2000, the company's vision has been to build an entirely new platform for mobile communication, providing its subscribers with high-quality communication services.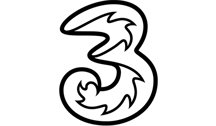 In 2000, 3 Scandinavia, owned by Investor AB and CKHH (formerly Hutchison Whampoa), was awarded one of the four Swedish 3G licenses and began building a greenfield 3G network. Supported by the rapidly increasing availability of smartphones and customers wanting fast and reliable data everywhere, 3 Scandinavia has benefited greatly from its state-of-the-art mobile network, innovativeness and competitive service offering. Because the company is at the forefront of delivering fast data, it has benefited from high usage and increased customer demand. The company has consistently gained significant market share in both Sweden and Denmark by constantly challenging the status quo with innovative services and solutions.
Today, 3 Scandinavia has more than three million subscribers. Thanks to its strong service focus and cost-efficient structure, it has grown rapidly over the years and generated strong profit and cash flow. There is great potential for the company to continue to grow, both in the consumer and enterprise markets.
RECENT HIGHLIGHTS
The Swedish business has returned to subscriber base growth after the decline in 2017, and net subscriber intake continues in Denmark. The work to increase customer satisfaction, which is yielding positive results, remains an important focus area.
Reflecting changing customer preferences, the two online-focused brands Hallon and Oister continued to enjoy strong momentum during the year.
3 Scandinavia continued to invest in its network, improving coverage and capacity and implementing several technical functionalities such as e-sim and Narrowband IoT. 3 Scandinavia was also first to launch several new products to the market, including the Apple Watch Series 3 and several smartphones from Xiaomi.
Morten Christiansen was appointed CEO of 3 Scandinavia, a position he will combine with his role as CEO of 3 Denmark.
Click here 3 Scandinavia's website
3 Scandinavia - Key facts
| | | |
| --- | --- | --- |
| SEK m. |  2020 |  2019 |
| Sales | 10,668 | 10,705 |
| EBITDA (%) | 37 | 37 |
| Number of employees | 1,775 | 1,810 |
Patricia Industries ownership (capital/votes): 40/40  |  Initial investment year: 2000
Back