Rebecca Jin
Managing Director
Biography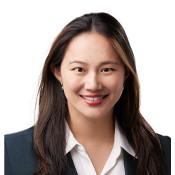 Rebecca has been an has been an investment professional at Patricia Industries North America since 2018.
Prior to joining Investor AB, Rebecca was Vice President at Warburg Pincus in the Industrial & Business Services Group from 2015 to 2018 and involved in the firm's investments in TriMark, Sotera Health, Electronic Funds Source, and WEX.  Before joining Warburg Pincus, she was an investment professional at Providence Equity Partners and started her career at Goldman Sachs in the Tech, Media & Telecom Investment Banking Group.
Rebecca received a B.S. summa cum laude in Economics from the Wharton School at the University of Pennsylvania and an MBA from Harvard Business School.
E-mail: rebecca.jin[at]investorab.com